She takes my breath away; she is so beautifully damaged.
Yes I had broken her, ravished her life, destroyed her happiness. I brought her to ultimate despair.
I was responsible for all the pain and suffering that now brought her to her knees in front of me.
She is a mirror of my own tortured soul.
But what I took away I can give back.
In ways she cannot even begin to imagine.
She is everything right in all my wrongs.
She loves me. She needs me.
She has no idea I'm the one who wrecked her life.
"Loving me will not be easy, loving me will be war. You will hold the gun and I will hand you the bullets. So breathe, and embrace the beauty of the massacre that lies ahead."
~Perfect
ion~
I love that quote so much
"Without you, I wouldn't

want to live, Tabitha. That's where I was when we met. I wanted to die, just like you did. I was slowly trying to kill myself. I was drinking all the time, and taking pills, cutting myself, torturing myself.

I got kicked out of the band. My life was destroyed, and I didn't

give a shit."
Wow! The quotes above pretty much tell you everything you need to know going into this one!
It also means that this isn't
the easiest book for me to review.
It's a darker read than Storm - it packed
a lot in.
I'm pretty sure that had the story line been simpler and a bit more loving I could have
hit a 4.5/5,
but it is what it is and it didn't really ignite me
the way that I hoped it would.
I think my biggest problem (and the dropped star) was that Vandal Valentine
just wasn't my cup of tea.
B
etween him being a millionaire, Dom wanting a 24/7 sub, (from a woman that he should have been much more honest and decent with)
a rock star,
a tattoo artist,
a
self harming control freak with
a bad attitude toward his friends and family
(no wonder they didn't seem to be around much!) but above all
a grieving father
-
it was almost too much for me - like everything and the kitchen sink was thrown at it.
I think prefer the main character to be one or two
of the above and that the plot follow just one or two paths? I don't know? But all of that took a bit away from the story for me. I think if you love Vandal, you'll fall hard for him.
Personally I preferred Storm.
I don't think there's a way to explain how I feel about the story line without major spoilers and going into how strange I found Tabi's behavior
(like not wanting to know Vandal's name/band etc - I don't know a single woman on the planet that wouldn't want to know those things)
Overall, I enjoy this authors way with words
she's a talented lady - I sincerely hope that this book does well and that 4 stars puts me in the minority.
I wanted this to be a 5 star read so badly!
My Storm Review...
Quick mention for Sterling the blind cat
(and star of the book!)
I really, REALLY loved his inclusion, his story
and that the real life Sterling is being looked after.
Well done Carian for helping him
with a portion of sales from the book.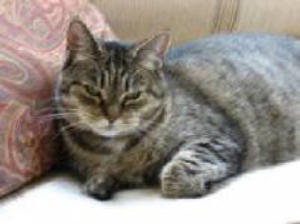 click the pic to go to Sterling's page!
In exchange for an honest review
a Rafflecopter giveaway
Barnes and Noble: Pending
(Storm, book 1 in ASHES AND EMBERS)
I have a passion for the bad boys, those covered in tattoos, sexy smirks, ripped jeans, fast cars, motorcycles and of course, the sweet girls that try to tame them and win their hearts.
My debut series, Ashes & Embers, follows the lives of rock band
members as they find, and
sometimes lose, the loves of their lives.
My first novel in the Ashes & Embers series, Storm, published on September of 2014.

Vandal

, the second novel in this series is publishing in February of 2015. I currently have approximately nine books slated for this series, as well as an
MC series in the works, and a few stand-alones coming in 2015 onward.
Born and raised a Jersey girl, I now reside in beautiful New Hampshire with my husband and our multitude of furry pets
and spend most of my time writing, reading, and vacuuming.