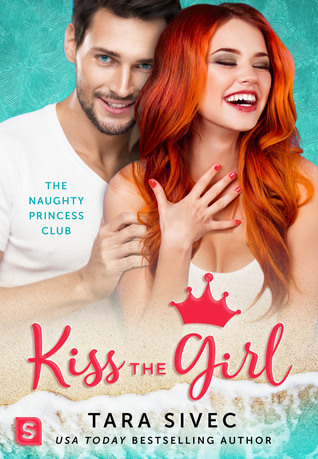 A struggling antiques collector finds herself falling in love with a millionaire playboy; but can she ever be a part of his world?

Meet the Naughty Princess Club, a series from USA Today bestselling author Tara Sivec that brings readers to Fairytale Lane and the hilarity—and romance—that three women fall into once they decide to strut their stuff and bring on their own happily ever after.

While her friends have broken free of their insecurities, Ariel Waters is struggling to come out of her shell. Her ex-husband took away her voice and her self-confidence, and Ariel is drowning under a sea of debt to afford the alimony she has to pay him. She refuses to ever fall for a man's charms again, and is determined to make her own way.

When her house and her beloved antiques are taken by the bank after too many missed payments, Ariel finds herself adrift until the infuriatingly charming Eric Sailor comes to her rescue. Although she can't stand the millionaire playboy, Eric's kindness and unconditional support reveal hidden depths and a love that Ariel never imagined she could find.

But there are outside influences who will stop at nothing to keep them apart; can Ariel and Eric weather the storm and find a way to be together?
👑

Amazon: mybook.to/KissTheGirl3


👑

Nook: http://bit.ly/KissTheGirlNook


👑

iBooks: http://apple.co/2IbUQf2


👑

Kobo: http://bit.ly/2JAH8GM


👑

Google Play: http://bit.ly/2M7NN9Z


🎧

Audiobook: https://adbl.co/2MXE71r

A new spin on a timeless and classic fairytale, Tara Sivec's third installment in her Naughty Princess Club was a humorous and steamy romance. Full disclosure, this was my first read of the series, and the author did an incredible job in giving me great insight and background to these loony couples and their experiences.

Eric was a true prince charming and made this story for me. Sexy, comical, patient, I simply adored him. Ariel was quite the character. Strong-willed, extremely brash, a whole lot of sassy and overly dramatic, she was a bit to take in at times. Regardless, her antics and banter made me chuckle.

Overall, Kiss the Girl was a sizzling and fun read that fans are sure to enjoy!

ARC received from NetGalley in exchange for an honest review.