Title: Falling Away (Fall Away, #3)
Author: Penelope Douglas
Genre: NA | Contemporary Romance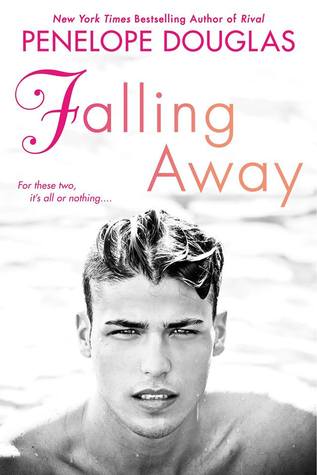 K.C. is the girl he won't let get away....





K. C. Carter has always followed the rules—until this year, when a mistake leaves her the talk of her college campus and her carefully arranged life comes crashing to a halt. Now she's stuck in her small hometown for the summer to complete her court-ordered community service, and to make matters worse, trouble is living right next door.





Jaxon Trent is the worst kind of temptation and exactly what K.C. was supposed to stay away from in high school. But he never forgot her. She was the one girl who wouldn't give him the time of day and the only one to ever say no. Fate has brought K.C. back into his life—except what he thought was a great twist of luck turns out to be too close for comfort. As the bond between them grows, he discovers that convincing K.C. to get out from her mother's shadow is hard, but revealing the darkest parts of his soul is nearly impossible.…
"Jax, I can't," she breathed, placing her hands on my chest. "I . . . ," she stammered, "I don't exactly dislike you anymore, but this isn't a good idea. As much as I'd like to give in, I can't be that girl."
She stared at me. "A one-night stand."
My fists tightened around her shirt. So that was what she thought I wanted?

My voice hardened. "What makes you think you'd be a one-night stand?"
"Because you're Jared Trent's brother. Because you're young. Why would you want more?" she asked, her tone light. "I'm not trying to be prissy, okay? You get to me. I like the way you feel. I'm just not ready for this." Her lips pursed, and she started to rise, but I pulled her back down
"Ready for what?" I bit out, getting seriously fucking annoyed at her assumptions and the fact that she compared me to Jared. Two minutes ago she'd had her arms and legs wrapped around me.
Her eyebrows shot up, challenging me. "This," she spat out, and dug into my pocket, pulling out my knife. "It's been digging into the back of my thigh since I sat down. Why do you have so many computers? Why do the cops let you get away with anything? What do you do to make a living? And why do you carry a knife, Jax?
My chest filled with delight at her anger. She was getting ballsier by the minute.

I shot her a smirk. "Because it's quiet." And I almost laughed at her arched eyebrow. She was asking why I carried a knife, and I just answered why I carried a knife instead of a gun.
She averted her eyes, but I caught the annoyed expression as she raised the knife up to her face, studying it. She hit the button, and the blade shot out right between us.
I had only a moment to wonder what the hell she was doing before I reared back, seeing her jab the knife into my space.
"You think you scare me, don't you?" she taunted, holding the blade to my neck, playing with me.
I sucked in a few quick breaths and let out a startled laugh as my heart slammed against my ribs. Well, this was new.
I swallowed, meeting her triumphant little smile and leaning into the blade, feeling the sharp, cool steel bite into my neck. "You want to play? You don't know how to play my games, Juliet."
And I snatched the knife out of her scarred hand and brought it down to the hem of her shirt, slicing it up the middle.
"Jax!" she screamed, fumbling with her now useless T-shirt as I threw the blade onto the floor. "What are you doing?"
Grabbing her around the waist, I stood up, whipped her around, and planted her in front of the window looking down onto the backyard full of partiers.
I wrapped my arms around her shaking body and growled into her ear from behind her, "God, Juliet. You think I just wanna fuck? You think I wanna keep myself hidden and mysterious, because it's my play to get women into bed? Huh?" I pressed. "No, baby. I could fuck ten different girls tonight if I wanted to. I don't want to do that."

Her chest shook, and she squirmed against me, probably scared that we could be seen out the window.
"So, what do you want?" she cried. "If not a one-night stand?"
I closed my burning eyes, and buried my lips in her hair. "I want to terrorize you," I confessed. "I want to cut you without drawing blood. I want to break you." I pulled her into me. "And then I want to fuck you."
From the moment I laid eyes on her I had wanted to break her out of her shell. I wanted to see her undone, and I wanted to take her over. For how long, I didn't know, but I knew it would be for more than one night.

I also knew it wouldn't be forever.
Her breathing slowed, and she stilled, staring out the window. I straightened behind her and peeled off the T-shirt she was holding closed.

"Jax," she whimpered, turning her face to me. "They can see us."
Reaching around, I turned her chin back toward the window. "They can't see you. The window's tinted." The shirt, sliced up the front, fell down her arms and spilled to the floor. "But you can see them, Juliet," I pointed out, gently running my hands up her bare arms. "They drink, they laugh, they have meaningless conversations about what's trending on Twitter." I paused and dug my fingers into her hips, pulling her ass into me and breathing into her ear, "And I'm so jacked up I want you so bad."
4 Stars
Arc received from author in exchange for an honest review



I was a little hesitant going into "Falling Away" because I have to admit, I was not a fan of KC when first introduced in "Bully". What enticed me to dive in was my curiosity and fascination with Jaxon's character. There was just something about the way KC handled the relationship with Jared and betraying her best friend Tate that left an acrid taste in my mouth. Regardless, I jumped into this read trying to have an open mind and soon discovered I was absolutely wrong. I shouldn't have been surprise in Penelope Douglas' ability to turn my feelings towards KC around.
The more familiar I became with KC's life, her pain, her history and sorrow, the more I opened up my heart. The real KC is a complex character that was truly misunderstood. Lost and filled with deep seeded pain, her life started to slowly fall apart. But once shedding the mask she wore to protect herself, KC shined. I championed her struggle in rebuilding herself and adored the new loving, gentle and tenderhearted KC/Juliette. A totally different side came through and I found her to be my favorite heroine in this series.
Jax is the quintessential bad boy. He's hot, sexy, extremely domineering and likes to have total control when it comes to sex. But he's also…mean-spirited, more so than I found his brother Jared and friend Madoc to be. For most of the read, he down right pissed me off with how callous he was towards KC. But his charisma coupled with his insatiable sexual appetite drew me to his character.
The deeper I was pulled into the story, the more I understood Jax. He was broken and needed to find himself as well. In all honesty, it was hard getting around his character at times, but once I crawled inside his mind and saw his pain, the more I hoped for his healing. It took some time, but I come to adore Jax because deep down he truly loves KC, and has for years.
As far as steam, this read was smoking hot – more so than the previous installments by far. Jax was full on crazy when it came to passion. It was easy to forget how young these characters were. Douglas has the knack of masking their youthfulness by introducing a definite level of maturity within her characters, especially during the hot monkey sex scenes. Holy cow, these two sizzle.
Jax and KC's romance was by no means an easy, lighthearted read. It was emotionally driven. This series is known for it's troublesome heroes/heroines and this couple certainly heads the pack. Stirring an array of feelings within me - from frustration, to anger, to compassion – Jax and KC's broken souls pulled on my heartstrings. In the end, Penelope Douglas penned another well-written intense story with just the right mix of angst, lust, love and nail biting moments. Lots of push and pull type of sexual tension that explodes once these two get together, and it was fantastic. To top all this goodness off, a glimpse into the next installment where we revisit Jared and Tate's relationship. I personally am looking forward to more of this couple and cannot wait to jump into their continuing saga.



Penelope Douglas is a writer in Las Vegas. Born in Dubuque, Iowa, she is the oldest of five children. Penelope attended the University of Northern Iowa, earning a Bachelor's degree in Public Administration, because her father told her to "just get the degree!" She then earned a Masters of Science in Education at Loyola University in New Orleans, because she hated Public Administration. One night, she got tipsy and told the bouncer at the bar where she worked that his son was hot, and three years later they were married. To the son, not the bouncer. They have spawn, but just one. A daughter named Aydan. Penelope loves sweets, The Originals, and she shops at Target almost daily.