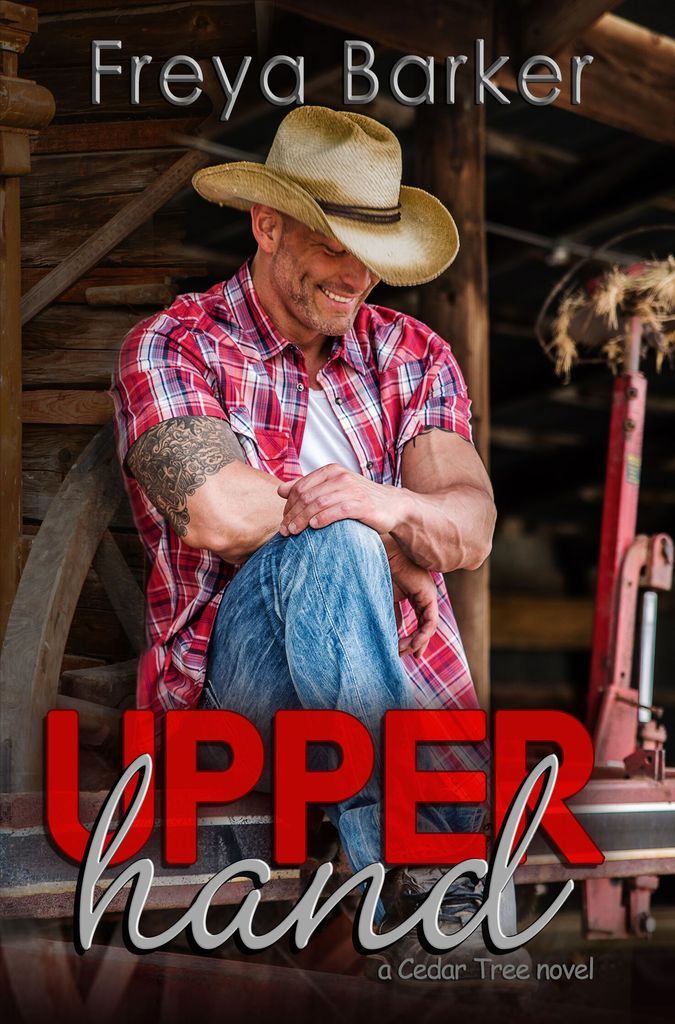 Book: Upper Hand
Series: Cedar Tree #5
Author: Freya Barker
Cover Designed: Margreet Asselbergs
Model: Alfie Gordillo
Photographer: Reggie Deanching of R+M Photography
More often than not, Clint Mason has his foot firmly wedged in his mouth, which tends to get him in plenty of hot water with the ladies. Although his laid back good ole' Southern charm does not fly far with the female population of Cedar Tree, the big burly contractor hides his dark side well.
The only one Beth Franklin allows herself to rely on is Beth, and so far that has served her well. Just when her son disappears after dropping his little guy off on her doorstep, her life seems to spiral out of control. For the first time ever, fearing for his safety, the fiercely independent waitress is forced to be on the receiving end of a helping hand. That's not easy for her, especially since the shovel-sized hand belongs to a man whose approach has run hot and cold the last year, leaving her feeling off balance. With a steady and commanding force, he exposes her softer side, while doing everything he can to keep her and those close to her safe.
**Due to some content of a sexually explicit nature, this book is recommended for a mature audience only.**
Purchase Links
Excerpt:
"A gentleman would've offered to do that for you, but when you bend over with that fine ass on display, I suddenly don't feel so gentlemanly anymore."
His breath tickles my ear and my body freezes in the spot. Mortification and arousal do battle for supremacy while I struggle for a smart come back. All I manage is an illiterate grunt, before slipping around the trunk of the car, keeping my head down to hide the telltale blush. His low chuckle follows me all the way into the driver's seat, and that's where my indignant self comes alive.
"What's with you?" I blurt out the minute his fine ass hits the seat beside me. "For days, no, make that weeks since you've woken up, you've been mostly a grumpy ass. And now suddenly you're going all sexy and shit. The hot and cold routine is giving me hot flashes," I mumbled the last, but apparently he hears because the car fills with the best sound I've heard in months—Clint throwing his head back and laughing without restrictions. I can't help but look over and take in the strong column of his throat and the strong white teeth showing between his lips. Fuck, those lips.
"Sexy and shit?" I lift my eyes from his mouth and find him looking at me with one eyebrow raised in question.
"Seriously? That's what sticks from all I said?"
About The Author
Freya Barker craved reading about 'real' people, those who are perhaps less than perfect, but just as deserving of romance, hot monkey sex and some thrills and chills in their lives – So she decided to write about them. Always creative, from an early age on she danced and sang, doodled, created, cooked, baked, quilted and crafted. Her latest creative outlets were influenced by an ever-present love for reading. First through blogging, then cover art and design, and finally writing. Born and raised in the Netherlands, she packed her two toddlers, and eight suitcases filled with toys to move to Canada. No stranger to new beginnings, she thrives on them. With the kids grown and out in the world, Freya is at the 'prime' of her life. The body might be a bit ramshackle, but the spirit is high and as adventurous as ever. Something you may see reflected here and there in some of her heroines.... none of who will likely be wilting flowers.
Stalker Links
Other Books
CEDAR TREE Sales Links:
Slim To None (#1)
Hundred To One (#2)
Against Me (#3)
Also by Freya Barker:
"FROM DUST"A Standalone Dark Emotional Romance Novel
Giveaway