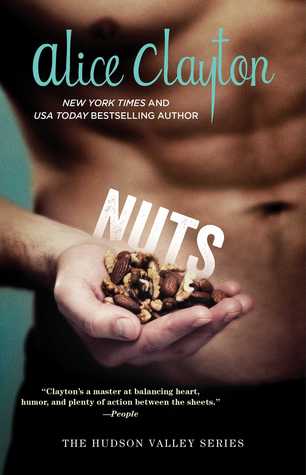 The New York Times bestselling author of Wallbanger and Rusty Nailed is back with Nuts, the first in a brand new series set in New York's beautiful Hudson Valley.
Roxie Callahan is a private chef to some of Hollywood's wealthiest, and nastiest, calorie-counting wives. After a dairy disaster implodes her carefully crafted career in one fell ploop, she finds herself back home in upstate New York, bailing out her hippie mother and running the family diner.
When gorgeous local farmer Leo Maxwell delivers her a lovely bunch of organic walnuts, Roxie wonders if a summer back home isn't such a bad idea after all. Leo is heavily involved in the sustainable slow food movement, and he likes to take his time. In all things. Roxie is determined to head back to the west coast as soon as summer ends, but will the pull of lazy fireflies and her very own Almanzo Wilder be enough to keep her home for good?
Salty. Spicy. Sweet. Nuts. Go on, grab a handful....
Nuts

was the perfect light-hearted feel good romantic comedy and once again, Alice Clayton had me in hysterics. Reminiscent of Wallbanger, Leo and Roxie's love story was hilarious and swoon worthy sexy. Clayton has fast become one of my 'must read' authors. With a unique writing style, she has the knack of luring me into each story, showcasing her insane sense of humor and scripting couples with extreme sexually charged chemistry.





What happens when you pair a spunky, sarcastic chef who has a flare for the dramatics with a bearded and ripped hunk of a farmer who's witty and sinfully sexy? An orgasmic explosion laced with fun, food, a heavy dose of laughter and plenty of sexual innuendos. I fell in love with farmer Leo and I devoured this read.

"You drive me crazy, Sugar Snap,"
Roxie Callahan, a

personal chef to the rich and famous in L.A., made one ill-fated mistake that caused her to loose almost all of her clients. (Fans of the Red Head series brace your selves for a Grace and Jack Hamilton cameo). Adding to her list of woes, there's pressure from her kooky mom to return home and run the family diner for the summer. The quaint little town of Bailey Falls, Upstate New York, holds bad memories for Roxie and she rebels against putting her life on hold for her mom's fanciful whim. Cornered, she has no choice but to give in. Soon enough she becomes reacquainted with old friends, as well as meeting the insanely hot farm-boy…Leo Maxwell. Their attraction is instantaneous as Roxie hysterically stumbles and fumbles over his nuts ;) and catching his attention.
Feeling a little lonely and sexually frustrated, she decides that some no-strings-attached summer lovin' with the amorous agriculturalist will lighten her mood. Besides, Roxie has no intentions of staying in the town she once escaped. As the season ends, it's back to her quasi-life in L.A. hmmm…
Her sights are set on Leo and he's all in, not wanting anything too serious as well.

I love the way Leo and Roxie's passion unfolds. Sparks fly, tensions build, and sexually electricity ignites between these two as Leo is seriously one spicy, dirty talking dude.
"That fucking honey scent that's all over your skin, it's driving me crazy," he murmured, his breath hot on my skin. "I can't keep my hands off you—it's like they have a mind of their own."
Roxie was interesting and highly entertaining. Feisty, comical, stubborn, yet she lacked self-confidence and had some misguided views that kept her away from home for years. I liked seeing the way she grew more confident, making friends and bonding with some real nutty characters. She blossomed and became more comfortable in her own skin without losing her funny, sarcastic edge. And hooking up with Leo strengthened her ties to her hometown. Being inside Roxie's crazy head was amusing – she had me in stitches.
The uber-sexy, somewhat aloof man with a hipster beard and rock-hard abs. Leo comes from big time money and despite a wealthy upbringing, he's the most down to earth guy. I loved all things Leo. Possessing an air of mystery, I was curious as to what triggered him to walk away from such an affluent lifestyle. Behind his playfully witty banter, Leo had some relationship hang-ups that needed to be dealt with - a bit gun-shy when it came to hooking up with Roxie (with good reason). I wanted a deeper insight into his thoughts, feelings and background. I felt we just skimmed the surface of his character, leaving me wanting more. Regardless, Leo is sweet, rugged yet refined and oh so hot. I adored his flirtatious ways, which were amusing and arousing.



All in all, NUTS was a refreshingly fun, low angst read. Clayton brought to life yet another endearing couple whose chemistry detonated with some off the charts deliciously steamy scenes. Their first time together was explosive. Holy WOW! Leo is by far the sexiest farm boy I've ever come across. He was incredible and I loved watching their relationship blossom as trust in one another built. This author has the gift writing tales with just the right mix of laughter, romance and passion. A sweet love story chock full of clever witticisms, comically sexual innuendos and quirky characters. However, the ending did leave me wanting more insight into their lives and future together. I do hope to see Leo and Roxie in the next installment,

titled Cream, featuring Oscar (the grouchy but sexy and tatted dairy farmer) and Natalie (Roxie's BFF).























Arc received in exchange for an honest review