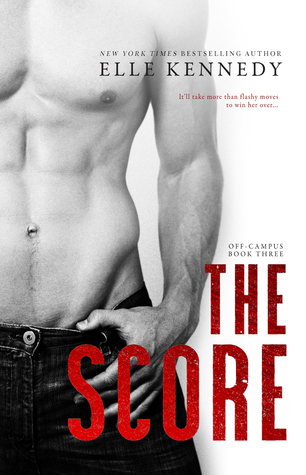 He knows how to score, on and off the ice



Allie Hayes is in crisis mode. With graduation looming, she still doesn't have the first clue about what she's going to do after college. To make matters worse, she's nursing a broken heart thanks to the end of her longtime relationship. Wild rebound sex is definitely not the solution to her problems, but gorgeous hockey star Dean Di-Laurentis is impossible to resist. Just once, though, because even if her future is uncertain, it sure as heck won't include the king of one-night stands.

It'll take more than flashy moves to win her over

Dean always gets what he wants. Girls, grades, girls, recognition, girls…he's a ladies man, all right, and he's yet to meet a woman who's immune to his charms. Until Allie. For one night, the feisty blonde rocked his entire world—and now she wants to be friends? Nope. It's not over until he says it's over. Dean is in full-on pursuit, but when life-rocking changes strike, he starts to wonder if maybe it's time to stop focusing on scoring…and shoot for love.



Poor Allie Hayes. After breaking up with her long time boyfriend, the last thing she expected when seeking refuge was to fall into Dean Heyward-DeLaurentis' sex lair. Bad timing as she showed up at her friends' doorstep, looking for a safe haven to sort out feelings and nurse a broken heart. Instead, she finds Dean practically in the middle (literally) of a tryst. And so begins a sweet romance filled with wit, tenderness, hilarious banter, and lots of dirty hot sex. I adore 'opposites attract' love stories and Elle Kennedy spectacularly delivers, as this unlikely couple faces-off to eventually find their way into each other's hearts.




Honestly, these two could not be more different. Allie, an inspiriting actress and student at Briar University, is focused on her studies, career and steady relationships. She's never been a girl comfortable with casual sex and hook ups. Dean, super hunk and defenseman for the school's hockey team, is all is about screwing and having a good time. Being a major playa, girls constantly fall at his feet, and he's more than happy living the party-life. He loves his life and makes no apologies for it. When opportunity knocks, and Allie appeared, things started to take a turn – Dean, wanting for more and Allie, becoming more whimsical. The Score, following suit with prior installments of the off-campus series, was a wittily sweet romance where a once man-whore falls for and fights for his perfect girl.



Ever since The Deal I've wanted Dean's story, very badly, mostly because I wanted to see how Kennedy would spin his character from a wild playboy I was skittish about to a hero I could fall for. Turns out, I fell hard for his extremely sensual, snarky ways. He had a special kind of sexy charisma that made me melt and swoon. Oh, there were moments where I wanted to smash him hard over the head for his blunders (especially during a particular plot twist which caused him to spiral into an out of control state). But seeing how he was truly into all things Allie, even though he was in denial at first, and acted like an ass at times, I became a Dean fan. Loved seeing how he tended to Allie's needs and a listening ear for when she needed a good friend. Adored his dirty talk as well as his sensitive side. There was much more to Dean than a shallow, self-centered ladies man. He was warm hearted, sincere and sinfully sexy. He matured into the passionate, devoted guy Allie needed as he found himself along the way.
In the end, I found Allie totally lovable. I have to confess, I did not remember her as Hannah's BFF in The Deal…eek, not sure how I forgot all about her, so I'll blame it on Garrett's sexy charms. At first, I saw her as little screwy in a cute, flakey way. Allie's need to run away from the fallout of her break up, struck me as lacking courage. Then, she blossomed to become sassy as well as sweet. A perfect compliment and match for Dean's wit and sexual appetite. Couldn't fully fault her for being apprehensive when it came to her relationship with Dean. After all, he had some reputation and there were several obstacles to overcome. However, I wanted her to move beyond

the need to hide

their relationship. Eventually Allie grew up, took control of her life and became the strong girl Dean needed, as she fully embraced their relationship. Together, they made the perfect couple.










This new adult, steamy college/sport themed comedic romance series is a fantastic must read. I've come to adore all these sizzling hockey dudes and their feisty chicks. The Score had it all…



* Steamy sex courtesy of Dean. Sheesh, he was HOT.









* Riotous, out of control laughter. Seriously, there was one memorable moment involving Dean, a bubble bath, a pink sex toy (affectionately called Winston) and Logan busting in. It was freaking hysterical, rivaling Hannah's locker room 'penises!' scene.



* An unexpected turn of events that had me all teary-eyed and emotional.



Elle Kennedy scored a win with me, big time, in her latest release - A fun tale of maturity, self-discovery and true love. The ending left me screaming, when Tucker (who mysteriously floated in and out of the story line) dropped a huge bomb at the very end. Can't wait for his turn on the ice.
ARC received in exchange for an honest review
A New York Times, USA Today and Wall Street Journal bestselling author, Elle Kennedy grew up in the suburbs of Toronto, Ontario, and holds a B.A. in English from York University. From an early age, she knew she wanted to be a writer, and actively began pursuing that dream when she was a teenager.

Elle currently writes for various publishers. She loves strong heroines and sexy alpha heroes, and just enough heat and danger to keep things interesting!