"An uproariously comedic and deliciously whimsical romp only this pair could deliver… Alice Clayton and Nina Bocci have struck gold."
—
Christina Lauren, New York Times and International Bestselling Author of Beautiful Bastard
By Alice Clayton and Nina Bocci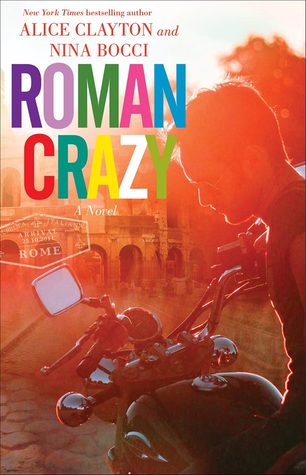 Avery Bardot steps off the plane in Rome, looking for a fresh start. She's left behind a soon-to-be ex-husband in Boston and plans to spend the summer with her best friend Daisy, licking her wounds—and perhaps a gelato or two. But when her American-expat friend throws her a welcome party on her first night, Avery's thrown for a loop when she sees a man she never thought she'd see again: Italian architect Marcello Bianchi.



Marcello was

the

man—the one who got away. And now her past is colliding with her present, a present where she should be mourning the loss of her marriage and—hey, that fettuccine is delicious! And so is Marcello…
Slipping easily into the good life of summertime in Rome, Avery spends her days exploring a city that makes art historians swoon, and her nights swooning over her unexpected

what was old is new again

romance. It's heady, it's fevered, it's wanton, and it's crazy. But could this really be her new life? Or is it just a temporary reprieve before returning to the land of twin-set cardigans and crustless sandwiches?

A celebration of great friendship, passionate romance, and wonderful food, Roman Crazy

is a lighthearted story of second chances and living life to the fullest.
Rome. The city of love and the beautiful setting for Avery and Marcello's second chance at love romance. Roman Crazy was an amusingly funny yet incredibly steamy lust-filled tale of self-discovery, reinforcing the bonds of friendship and rekindling lost love while experiencing all the wonders of Italy.

The writing duo of Alice Clayton and Nina Bocci had me laughing and swooning as this couple struggled to overcome the heartaches of the past, in hopes of finding a future together.




Coming to terms with her failed marriage, Avery Bardot jets off to Europe to clear her mind and spend some quality time with her bestie, Daisy. The last thing she expected was seeing her old flame, Marcello Bianchi - the one who got away. (Mamma Mia! Trust me, he was as sexy as his name – totally panty melting). Long ago, she broke his heart by ending their torrid affair without explanation, which made their reunion both painfully awkward and hysterically funny. Seeing Marcello and all his fury made Avery's situation much more complicated.




The story made many references to the past where we see Marcello and Avery's beginnings, the intensity of their lust, and the circumstances that ended the relationship. Young and misguided, Avery made some terrible mistakes, which she needed to rectify in order to move their relationship forward. After nine long years, she finally had the chance to apologize and reveal the truth behind her actions. I will say there were times I found myself exasperated with Avery's decisions, involving unfaithfulness on her part, which hurt Marcello. It took some time for me to warm up to her character. But seeing how this couple healed, their chemistry and the feelings they shared, I was able to move beyond and enjoy their second chance.




Although the story is told from Avery's point of view, it was Marcello who stole the spotlight for me. The quintessential tall, dark and handsome hero - I adored his larger than life sensual character, which exuded fiery passion. He had my sympathies seeing the way Avery left him alone and heartbroken. Loved how he took control of their relationship, taking his time to rebuild trust, as the love they shared strengthened. There was a moment Marcello had me cringing with a misstep in his actions, but seeing his undying love for Avery, he managed to charm his way back into my good graces. In the end, I simply fell in love with his alluring character.

Marcello è molto bello.




Roman Crazy

was an enjoyable read and one of my favorite parts, aside from the insanely hot Marcello and the comedic team of Avery and Daisy (their hijinks had me in stitches) was the beautiful descriptive imagery these authors wove into the storyline.

The food, the sights and the history – The vivid Italian countryside came to life. The story flowed so seamlessly, it gave me the feeling as if I was whizzing away on the back of Marcello's motorcycle, experiencing all the beauty first hand. All in all, Roman Crazy was a playfully fun and flirty read. Looking forward to more from the creative minds of Clayton and Bocci.
Arc provided in exchange for an honest review



Alice Clayton

worked in the cosmetics industry for over a decade before picking up a pen (read: laptop). She enjoys gardening but not weeding, baking but not cleaning up, and finally convinced her long-time boyfriend to marry her. And she finally got her Bernese Mountain Dog.



@ninabocci
@alice_clayton
www.ninabocci.com
www.aliceclayton.com
facebook.com/ninabocci
facebook.com/authoraliceclayto n