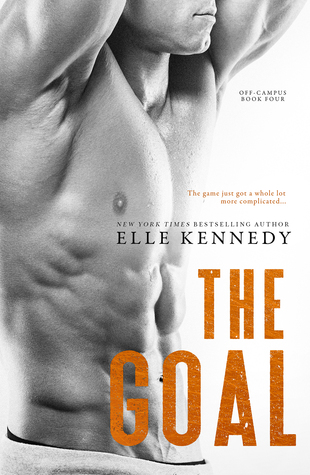 She's good at achieving her goals…

College senior Sabrina James has her whole future planned out: graduate from college, kick butt in law school, and land a high-paying job at a cutthroat firm. Her path to escaping her shameful past certainly doesn't include a gorgeous hockey player who believes in love at first sight. One night of sizzling heat and surprising tenderness is all she's willing to give John Tucker, but sometimes, one night is all it takes for your entire life to change.

But the game just got a whole lot more complicated

Tucker believes being a team player is as important as being the star. On the ice, he's fine staying out of the spotlight, but when it comes to becoming a daddy at the age of twenty-two, he refuses to be a bench warmer. It doesn't hurt that the soon-to-be mother of his child is beautiful, whip-smart, and keeps him on his toes. The problem is, Sabrina's heart is locked up tight, and the fiery brunette is too stubborn to accept his help. If he wants a life with the woman of his dreams, he'll have to convince her that some goals can only be made with an assist.
Ever since Tucker made his surprising announcement at the end of "The Score", I could not wait to get my hands on his story and did a little happy dance when it finally popped up on my kindle. So excited for more hockey hotness from one of my favorite college/sport romance series. A lovable hunk of a hero, a sassy chick, moments of laughter, and off the charts steaminess, Elle Kennedy scored another win with the roller coaster ride that was Tucker and Sabrina's relationship in the "The Goal".



Sabrina was very fortunate to catch the eye of the handsome and charming John Tucker. Gentle, affectionate and extremely patient, he was the perfect compliment to her stubborn character. However, going into this read, I had my reservations about this couple. Following the series, Sabrina had an icy vibe and I wasn't convinced she was "the one" for Tucker. After seeing her unfortunate circumstances and struggles, I understood why she was so closed off. Sabrina had a tough life, which causes her to be extremely driven and focused on her future. I got where she was coming from and respected her determination, but felt her character held back. I wanted Sabrina to get over her hang-ups, open up and accept all the love and support Tucker generously offered sooner in the story. Regardless, they had chemistry and were good together. Tucker was a nurturer and I loved the way he gave Sabrina exactly what she needed.



Even though I adore all of Kennedy's hockey heroes, Tucker became my favorite. Wonderfully sweet and super sexy, he instantly melted me. It was so easy to fall in love with this laid-back southern gentleman with a heart of gold and dirty mouth. Overly romantic and charismatic, Tucker had me gushing the entire story. He was amazingly swoon-worthy.




All in all, "The Goal" was a steamy read that I devoured in one sitting. I enjoyed revisiting these crazy couples and chuckling over their hijinks while savoring Tucker and Sabrina's journey. Although these are mainly lighthearted romances, this read had a more serious feel, especially seeing Beau once again.

*Deep sigh*

Experiencing the tragedy broke my heart…again. This can certainly be read as a standalone even though it's the fourth book within the series. But, I highly recommend reading from the beginning to truly appreciate the dynamics of these loony characters' relationships and their bonds of friendships. A good choice for when you're in the mood for a fun and sexy read.


ARC received in exchange for an honest review
A New York Times, USA Today and Wall Street Journal bestselling author, Elle Kennedy grew up in the suburbs of Toronto, Ontario, and holds a B.A. in English from York University. From an early age, she knew she wanted to be a writer, and actively began pursuing that dream when she was a teenager.

Elle currently writes for various publishers. She loves strong heroines and sexy alpha heroes, and just enough heat and danger to keep things interesting!