Calling all historical romance readers who love a good man in a kilt! You don't want to miss Entangled's Real Men Wear Kilts sale. Ten of our favorite historical romances featuring sexy Highlander heroes are on sale for just 99¢ each.
So start clicking and filling your eReaders! You can find all the sale books here.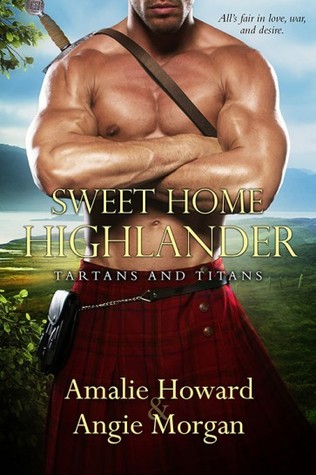 Sweet Home Highlander by Amalie Howard and Angie Morgan
Lady Aisla Montgomery has a perfectly tolerable marriage...as long as her husband stays in Scotland. But now she wants only one thing—a divorce. Niall Stuart Maclaren rues the day he met his beautiful, conniving wife. Though the thought of her incites a bitter and biting fury, no other woman has ever stirred his blood as hotly. When Aisla returns to Scotland to sever ties, Niall agrees on one condition—one week with him for every year of desertion.
The Highlander's Choice by Callie Hutton
Lady Sybil Lacey is properly horrified to attend her best friend's wedding in the Scottish Highlands. For Sybil is quite certain that Scots are little more than brutish, whiskey-swilling lechers. Yet she's secretly attracted to Liam MacBride—the tall and devastatingly handsome Scottish laird of Bedlay Castle, who believes English ladies are silly sassenachs. All they can do is quarrel, until loathing turns into sweet, undeniable lust...but a tempestuous, fiery romance between an English lady and Scottish laird cannot end well.
Rogue of the Highlands by Cynthia Breeding
Widowed and penniless, Jillian reluctantly accepts the job of "refining" a Scottish Highlander. The man infuriates and intrigues her, as well as shakes her resolve to never again let a man close.
Ian MacLeod's clan needs the profits he can gain by claiming his inherited English lands. When he meets the very proper Lady Jillian Newburn, he's fascinated by what he suspects is a warm heart and fiery passion underneath her icy demeanor.
Getting past her chilly resolve to keep him at arm's length will be a challenge, but this MacLeod has never backed down from a challenge.
The Maiden's Defender by E. Elizabeth Watson
Madeline Crawford is a daughter of the disgraced Sheriff of Ayr. Fierce Highlander Teàrlach MacGregor was her father's head guardsman. They dream of a future together. Those dreams come to naught when Madeline is betrothed to the son of her warden. Madeline and Teàrlach's love is forbidden but Teàrlach vows to fight, even the king, to make her his.
The Wolf of Kisimul Castle by Heather McCollum
Mairi Maclean is kidnapped on her wedding day. Taken north to Kisimul Castle, she is held captive. Alec MacNeil, The Wolf of Kisimul Castle, soon learns Mairi is not a docile pawn in this game of war between neighboring Scots. When he finds his enemy dead, he takes his wife to replace the one that was murdered. But Mairi refuses to bend to his will, and the passion that flares between them threatens to tear Alec's strategy apart.
Lady Evelyn's Highland Protector by Tara Kingston
Playing bodyguard is not in Gerard MacMasters's plan but Lady Evelyn Hunt is in danger, and it's up to him to keep her alive. After a crushing betrayal at the altar, Evelyn wants nothing to do with love. Kissing a gorgeous rogue is one thing, but surrendering her heart is another. When she stumbles upon a mysterious crime, nothing prepares her for the dashing Highlander who may be her hero—or her undoing.





To Save a Savage Scot by Tamara Gill
There's a mystery surrounding Black Ben's death, and Kenzie longs to solve it by traveling through time and perhaps meeting the gorgeous laird who haunts her dreams.
Fate has brought them together, but Black Ben can't stop Kenzie from leaving, though he would do anything to keep her with him. Kenzie must return to her time but leaving her sexy Highlander behind might be the toughest thing she ever does.
Tying the Scot by Jennifer Trethewey
At first, Alex Sinclair, the future Laird of Balforss, has difficulty convincing Lucy FitzHarris to go through with their arranged marriage. Once Lucy arrives, she cannot resist the allure of her handsome Highland fiancé. But when Alex betrays Lucy, she is tricked into running away. Alex must rein in his temper to rescue his lady from unforeseen danger and Lucy must swallow her pride if she hopes to wed the Highlander she has come to love.