London – one meeting, one month of lessons and a landslide of new desires.

My journey to hell started with a decaf coffee. Nothing more than a grey mug full of dull-brown liquid devoid of its most useful ingredient.

One sip, one smile, one touch of her hand and it was soon clear my life wasn't destined to stay dull. Oh, no, suddenly I had a month of bedroom education planned by a sultry vixen who intended to broaden my horizons beyond my usual peach-pink palette.

She wanted to take me to deep purples and navy blues and the pitch blackness that was pure sin. And on the other side of that blackness was a place that might look like Hell, with debauchery and wantonness, people playing devil's advocate, luring innocents into the hotter, steamier corners of the world.

Her world.

Oh, yes, she promised each night to take me there and paint me an orange-and-red picture that would come alive, flickering like flames, enticing me, holding me spellbound and eager to learn more. To touch, explore, drown in coming.

And drown I would. I was no match for her tricks and taunts. My only chance of survival was to show her that I wasn't vanilla. I had a rainbow of mastery up my sleeve, too, and if she just opened her eyes, she might be dazzled enough to stay—stay and take 'my' lessons. If she didn't kill me first, that was, with pleasure.


Please note The Novice is book #1 in the Sexy as Hell Trilogy which is best read in order. At the end of The Novice you will find the first 3 chapters of the next book, The Player, available for your enjoyment.
I sighed then sipped my coffee, wondering what on earth was the matter with me. Perhaps this game with Victor was dragging me down. If that was the case, I couldn't wait for it to be over. I stared into space, working out what to show him next. There were the Swedes—mustn't forget those—but maybe they'd be better off left for the finale. God, that would give him a last visual to remember his time with me by. I could only hope he learned from what I was teaching him and didn't file it in the back of his mind. What a waste if he didn't use it with future women, either as a sub or having a go at domination himself. When he'd got going last night he'd given off an unstoppable energy. It was muted assertiveness yes, but I was pretty sure it was there.
Bile rose into my throat.
Was I coming down with something? That would be all I'd need, being sick smack bang in the middle of a bet. I breathed deeply, waiting for a slash of nausea to strike, but nothing came. Maybe the milk in the coffee wasn't as fresh as it could be. I shrugged, once again studying the men in the coffee shop. One of them, nice-looking and hair much like Victor's, greying a bit at the temples but not quite as long at the back as his, was typing steadfastly on his laptop. I wondered what he did for a living that meant he spent his coffee break working. Or perhaps he wasn't working at all. He might well be firing off saucy emails to a woman who read them while frigging her clit. Would Victor be up for something like that?
I wasn't about to wait to find out. I reached into my bag and pulled out my phone. Having stored his email address in my mind, I tapped the icon for my mail app and typed it in, taking a moment to think on what to put. In the subject line I typed CAN YOU WALK PROPERLY TODAY? then proceeded with the main entry.
Dear Mr Doesn't-Know-It-All-But-Knows-A-Bit-More-Than-Before,
I hope this email finds you in good spirits. How is your arse? Sore? I imagine it is. Mine isn't, just in case you were wondering. I have a blissful kind of ache going on down there, and every time I move I think of you with your cock inside me. I have to admit, I'm wondering how that cock would feel in my cunt again, but we have plenty of time for me to find out, don't we?
Now, about tonight. I doubt your back hole is up for any more invasions just yet, so I thought us watching a performance might be the best way to go. There's an act you haven't seen yet—The Harlequin; you'll see why when you get there—and it will show you a thing or two.
8 o'clock
sharp at Eden Street. If you don't turn up this time…well, it'd be pointless if you didn't. You know damn well I'll only come and find you and do what I have in mind anyway. And you'll enjoy it, I promise.
By the way, I'm enjoying a lovely coffee. Isn't it about time you took a break?
Mistress Z
I smiled as I hit SEND, imagining his mail alarm tinkling, him opening his email browser thinking it was a client or one of his staff, only to find little old me had barged into his inbox. I wanted to barge into his inbox for real, but like I'd said to him, I didn't think his arse could take another invasion so soon.
I sipped and gazed around while waiting for his response. If he didn't send one immediately, then that was all right. He might be busy drawing or in a meeting or something. I hoped he wasn't—hoped he was at his desk, bored and waiting for a decent distraction. Did he ever get bored at work, what with all those important projects to be getting on with?
My phone gave a solitary blip, and I looked down to see a number one in the corner of my mail icon. Excited, and wanting to laugh so loud it made people stare, I opened my mail.
Dear Mistress Z,
You are so naughty, emailing me like this. What did I tell you last night? I'm a busy man—too busy to be having filthy email conversations with you. Too busy to take a bloody break.
Yes, I'll be at Eden Street at 8, not because you ordered me there but because I want to see The Harlequin. I enjoy a good show—perhaps you'd like me to take you to one of my kind some day? And yes, my arse is sore, thank you very much.
Mr Won't-Take-Any-More-Orders-For-The-Rest-Of-The-Day
Ha! So he wasn't so busy that he didn't have time to respond. And as for not taking any more orders…he'd be taking them tonight.
Dear Mr I'm-Too-Busy-For-My-Mistress-Who-Likes-To-Put-Things-Up-My-Arse,
Thank you so much for your prompt response, despite being a very busy man. I appreciate you finding the time to squeeze me into your hectic schedule. I should be flattered. However, there's always time for a bit of slap and tickle, and I aim to show you that all work and no play might make Victor a very dull man. And it had made you dull, hadn't it? Admit it. When was the last time you had fun before you met me? Lighten up a little.
If you have a client sitting opposite your desk—and I can't imagine you being so rude as to write filth to me if you did; again, not enough balls—or you have someone in your office, or perhaps you're in someone else's office and answering mail on your phone, just imagine what they'd think if they knew what we were talking about. Don't you think it makes for an interesting deviance from your usual boring day? What a secret to have, sending raunchy messages to a woman when no one else knows.
What a secret to have when a woman emails you saying she'd like nothing more than to pay you a visit, yank down your trousers, and stuff your very hard cock into her mouth.
And you are hard, aren't you?
Mistress Z
I sent the message and smiled. I was skating on thin ice here, risking annoying him or getting him so exasperated that the next response from him might not be so kind. Still, it was passing the time, and I could imagine him now, reading my message with a too-hard cock and no way to relieve it unless he visited the bathroom and took himself in hand. If he was in a meeting, all the better. A stiffy when sitting at a conference table could only make him want to see me tonight all the more.
My alert pinged.
Dear Mistress-Z-Who-Is-So-Infuriating-She-Makes-Me-Want-To-Scream,
I'm alone in my office, trying to work, and no, that doesn't mean you can send me more of your dirty little messages. I really do need to get along here, and it's all very well saying I should have secrets and should enjoy all this email sex malarkey—and I am in a way, I just wish you hadn't chosen today to do it—but I have deadlines.
I don't want to brush you off, believe me I don't, but in answer to your question, yes, I'm too damn hard and it's going to take a while for me to stop thinking about your pert little body and concentrate on work.
Now stop it. I mean it, just stop.
Mr Wants-To-Fuck-Around-With-You-But-Can't
A grin a mile wide spread across my face. That was all I'd been after, him admitting he wanted me, giving me some assurance that he'd be at Eden Street tonight. Oh, I knew he'd said he'd be there, but after his no-show before, I'd had to make sure. And now I knew he wanted to fuck me, was sitting at his desk trying to deflate his cock, I was on cloud nine.
As I was just about to hug myself in victory, the man who looked a bit like Victor came up to my table. I stared at him, wondering what he could want, and slid my phone back into my bag.
"May I join you?" he asked.
"If you like," I said, giving him my best I-can-hook-you-in-a-heartbeat smile. It felt wrong on my face, stretching it painfully, and I didn't understand why. "So," I said, following my usual patter, "what brings a hunk like you here?"
He grinned, blue eyes flashing, and placed his laptop on the table. "Having the chance to pick up a woman like you."
Oh, someone else who thought he should be the one to run the show. I refrained from rolling my eyes and gave him another smile instead. Inwardly I sighed at having to go through this again, when all I wanted was to go home and think about tonight. I didn't like other men encroaching on my time when I was teaching someone else.
So why were you here the other day then? The day Victor dropped in and caught you looking at other men?
I frowned. All right, so I was a hypocrite. I'd have to be honest with myself—this man wasn't floating my boat, no matter how similar to Victor he was. No matter how attractive he was.
"I'm not here to be picked up," I said. "I'm…well, I'm seeing someone."
I stood and grabbed my bag, slinging the strap over my shoulder and heading to the door without looking back. I couldn't believe I'd said that to him, had turned down the chance at a one-night stand come the end of the month. But it was all I'd been able to think of to get rid of him, to make my exit appear acceptable.
There was no other reason for saying what I had at all.
Enter to Win!


• 1 of 5 Sexy as Hell Box Set by Harlem Dae
Harlem Dae is the pen name of two authors - Lily Harlem and Natalie Dae. They have been writing together for several years on top of their individual author projects and enjoy being represented by traditional houses including HarperCollins and Totally Bound as well as self-publishing their sexy stories on Amazon.

The Novice, Anything for Him and Good Cop, Bad Cop have all claimed the #1 spot on the Amazon Erotica chart in 2013 and with the popularity of the newly released Sexy as Hell Trilogy it looks like 2014 is going to be another wild ride of success for Harlem Dae.

Both live in the UK and gain great satisfaction from bouncing characters and their raunchy antics back and forth, growing, nurturing and stoking plot lines until they steam off the page and push boundaries. They consider themselves to be solitary, whacky, spontaneous and desirous for many things including perfection and are frequently caught sending messages back and forth referring to each other as Rodney and Delboy.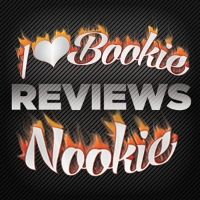 Please check out the other stops on this tour today:
Check out the entire schedule of the 18 Holiday Party Blog Tour stops & participating bloggers HERE.