Make sure to enter the giveaway below for a chance to win an ARC of this book. Good luck!



Follow along the blog hop by checking out

All Romance Reviews

tomorrow or by using the following schedule:


Violet Hayes's life is a mess. Between her stalker, Preston, refusing to leave her alone, her parents' case still being unsolved, and falling behind in school, she always feels on the verge of losing it. When some unexpected news comes her way, it's the final straw and she ends up doing something that almost costs her life. Thankfully, she survives and makes a promise to herself to put her life back together and to try and figure out exactly how she feels about Luke Price, the one person that's always there for her.
But as a recovering alcoholic and gambler, Luke has his own struggles to overcome. He's also fallen in love with Violet, but fears telling her the truth, that it will scare her away or worse, she won't reciprocate the feeling. Plus, there never seems to be a right time to say it, either the case, Preston, or life getting in the way.
Can the two of them ever get enough peace in their lives to conquer their fears and finally tell each other the truth about how they feel?
She must sense it's my presence though, because she sinks into the touch. The she peeks over her shoulder with a wicked grin on her face. "Glad you could join me." She winks at me then starts to really dance.



I'd almost forgot how amazing the way she moves is, not too much or too little, the perfect amount of rhythm and sway of her hips that makes her ass brush up against me just right amount. I go rock hard within just a few moments as I sway with her, allowing my hands to travel up and down her hips, her sides, all over her body. There are people everywhere—Seth, Greyson, Kayden, and Callie included. But as far as I care, it's just Violet and me out there. The rest of the room is just a blur.



We dance this way forever, through the entire concert, becoming sweaty, breathless, and I'm turned on more than I ever have been. Neither of us seems in any rush to stop either, our bodies welded together, refusing to break this strange, destiny induced bond we've stumbled upon. Kayden and Callie bail out pretty early, while Greyson and Seth stick around with Violet and I. Eventually the large mob of people starts to dwindle into a small crowd. Before I know it, we're pretty much the only ones left on the dance floor. Still, we don't stop moving, lost in some sort of moment where only the two of us exist.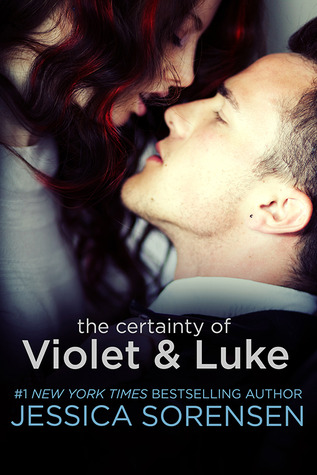 Amazon Barnes & Noble
The Coincidence Series
The Coincidence of Callie & Kayden (Book 1)
Amazon Barnes &Noble iTunes


The Redemption of Callie & Kayden (Book 2)
Amazon Barnes & Noble iTunes


The Destiny of Violet & Luke (Book 3)
Amazon Barnes & Noble iTunes


The Probability of Violet and Luke (Book 4)
Amazon Barnes & Noble iTunes Smashwords


Pre-order
The Resolution of Callie and Kayden (Book 6)
Amazon Barnes & Noble Smashwords
The New York Times and USA Today bestselling author, Jessica Sorensen, lives in the snowy mountains of Wyoming. When she's not writing, she spends her time reading and hanging out with her family.
TRIPLES with EMMA