We are excited to share with you the covers for Roxy Sloane's new series - THE INVITATION!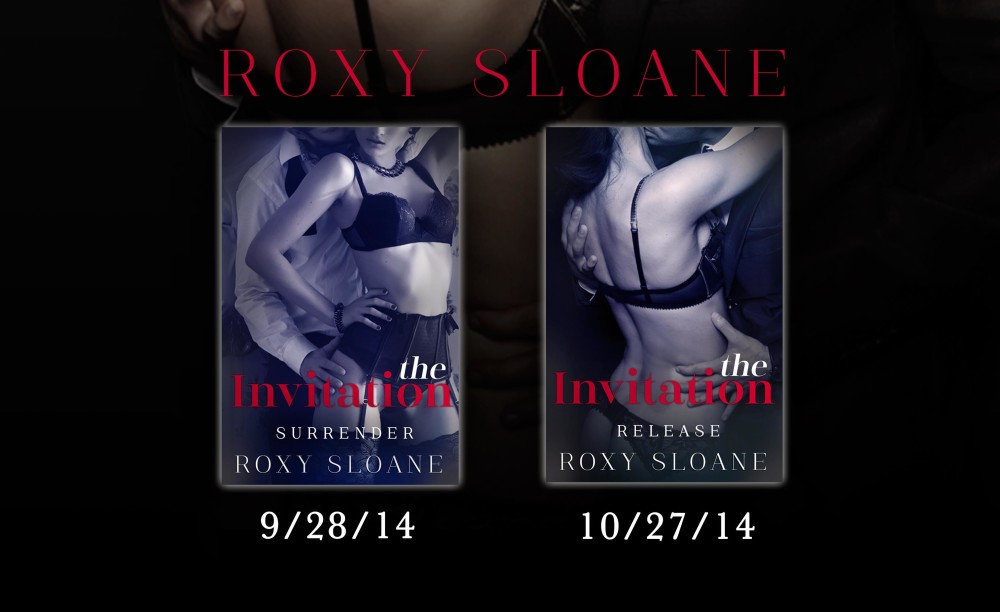 Book 1 - Surrender
Welcome to your wildest fantasy...
The invitation arrives out of nowhere. No name. No address. Just one simple challenge.
'Play with me.'
The games are intoxicating, each one more thrilling than the last. And pleasure is the ultimate prize.
He knows my secrets. He sees my darkest desires. He can drive me to ecstasy -- and I don't even know his name.
This is your invitation. Now its your turn to decide.
Are you ready?
Release Date: September 28, 2014

Book 2 - Release
The invitation unlocked a world of pleasure -- but the game is only just beginning…
He promised me an adventure. I had no idea what lay in store. Now, I know his name, and everything has changed.
I want to trust him, but his secrets could ruin us both. I need to know what he's hiding – before it's too late.
I've already risked everything for his love. Now, I'm playing to win.
Are you ready?
Release Date: October 27, 2014


When was the last time you came? Is someone there with you now -- touching you, teasing your stiff nipples, making you beg and moan? Are there hands on your body, sliding over your damp skin? A hard, thick cock driving deep inside you, relentless, until you think you'll lose your mind? Or are you alone? The lights dimmed, your legs easing apart. Fingers, stroking lower. Your head falling back against the pillows. What do you imagine when you close your eyes? One lover, or many? A soft touch, or a punishing grip: fingers digging into your thighs, holding you down, fisting your hair in a tight knot as you part your lips in a silent cry of pleasure. Do you picture people watching, their eyes roaming across your naked flesh as you pant for air? Or are you the one hidden in the shadows, watching someone else as they come undone? You want it on your knees, his cock thrusting all the way into your wet, needy mouth. You want to be tied down, his mouth claiming you, his tongue licking deep against your tight, aching cunt. You want pleasure. You want pain. You imagine it all, every time. A flash of images, your body rising to your touch. You play the scenes out, every detail, as that craving twists higher and your breath turns shallow and your skin aches for a release that's close, closer... Oh. You felt it, didn't you? But it wasn't the touch that took you there, not just a simple, animal response. It was your imagination. Those secret, sensual fantasies, more private than anything you could say out loud. More powerful than a hundred hard fucks. Most other men don't realize. They think sex is about friction and girth. They think surrender is a pair of handcuffs and a silk scarf. They don't understand, a woman's most powerful erogenous zone is her mind. But I do. I know your darkest desires. I see what you crave when he's holding you at night. I can show you a pleasure beyond reason, beyond your wildest fantasies. All you have to do is accept my invitation. Are you ready to play?

Romance junkie, mom, and legal eagle. I have a dirty mind and I'm not afraid to use it.