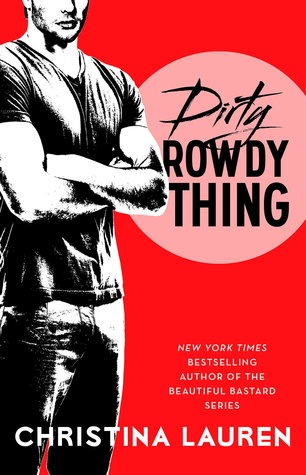 From the New York Times bestselling author of Beautiful Bastard, Beautiful Stranger, and Beautiful Player, Book Two of the brand-new Wild Seasons series that started with Sweet Filthy Boy—a story of friends, love, and lust.
Despite their rowdy hookups, Harlow and Finn don't even like each other...which would explain why their marriage lasted only twelve hours. He needs to be in charge and takes whatever he wants. She lives by the Want-something-done? Do-it-yourself mantra. Maybe she's too similar to the rugged fisherman—or just what he needs
.
Received from author in exchange for an honest review





One drunken wild and crazy night in Vegas brought Harlow and Finn together as husband and wife. The morning after brought them back to their senses and they parted ways as soon to be divorcees. However, the sparks they ignited never faded. Their paths soon cross again and they discover that despite being from two different worlds, they share an insatiable desire to consume one another. Both burdened with problems in the real world, they decide to seek comfort within their shared passion and off the charts unbelievably hot sex. Harlow and Finn definitely know how to distract one another from the difficulties life dealt them by getting deliciously kinky. The more they hook up, the more they realize their relationship isn

't

just about raw, animalistic sex.



Harlow

's

a likable female lead with just the perfect amount of sassiness and tough girl edge. She

's

witty, smart, sultry and sarcastic. I loved that she was not a push over, wishy-washy character. She may be brutally honest at times, but underneath her

'

tough as nails

'

shell, lays a heart of gold. She's the type of girl who would do anything to help family and friends in time of need. Harlow soon learns that she cannot fix everyone's problems, especially when it comes to a man like Finn.
"It's you," he whispers, and then bends to kiss my hair.




And suddenly, I'm on an epic mental bender, imagining all of the things he could have meant when he said it. It takes no time for him to clarify, though.

"I want to be good to you." He rolls me to face him, and kisses me once before admitting, "I'm just fucking wild for you."
I have to confess I was a little leery jumping into this story. I fell in love with sweet adorable Ansel, and Finn had his work cut out for him to be held to Ansel

'

s high standards. It didn't take long before all things 'Finn' infatuated me. I had my doubts in the beginning because he gave me a cold and standoffish type of vibe. I got over it real fast and holy hell did he sizzle! His panty melting dirty talk and masterful use of ropes made me an instant Finn fan girl - total Alpha male who is snarky as well as domineering

–

I could not resist his charms. He had total control in the bedroom and Harlow wasn't the only one swooning over the scrumptiously hot, rough sex that was mind blowing and scorching. OMG, Finn

's

filthy mouth was such a turn on. He's the perfect type of man Harlow needs to surrender her will and satisfy her sexually.
"Has anyone ever spanked you, Ginger Snap?"
As hot as he is

…

Finn is stubborn and not really an easygoing type of guy. Just like he is in the bedroom, Finn's character burns with such intensity. As much as I loved him, he managed to severely piss me off big time. (Frustrating me to the point where a wanted to fling my kindle). Yes, his stubbornness and pride caused him to go total "asshole" on Harlow. She may have crossed a fine line during a particular situation, but her heart was in the right place. Finn acted like a huge jerk, causing some tension in the story line. (Don

't

get me wrong

–

I loved angst and all the emotions it stirred in me). Harlow, bless her soul, has a forgiving heart - a little too kind for my liking. But in the end, I adored this couple and appreciate all the hardships they experienced.




Dirty Rowdy Thing, in fact this entire series, took me by surprise. I quickly became a fan of the storytelling duo that is Christina Lauren, their refreshing stories and dynamic characters. I like the dual points of view, the AMAZINGLY hot sex scenes, the characters' chemistry and the intensity of their romance. I totally fell in love with this series and cannot wait to see what Oliver has in store for us.


Christina Lauren is the combined pen name of long-time writing partners/besties/soulmates/brain-twins Christina Hobbs and Lauren Billings. The coauthor duo writes both Young Adult and Adult Fiction, and together has produced seven New York Times bestselling novels. Their books have been translated into 22 languages. (Some of these books have kissing. Some of these books have A LOT of kissing.)
We don't respond to messages here, so please contact us via twitter (@seeCwrite for Christina and @LolaShoes for Lauren) or our site. Thank you!!