Navy SEAL sniper Mace Callahan has a sharp eye focused on Nina. When another warrior takes aim at her, Mace wages war for her heart.
Nina Samson, an analyst working at Coronado Base Command, lands in Navy sniper Mace Callahan's lap like an I.E.D. Two weeks of fiery passion with the lithe redhead, and the self-proclaimed bachelor raises the white flag. Arriving in San Diego, Nina, a single mother with an eight-year-old daughter, spots danger ahead. Mace's Hollywood goods looks and wicked smile makes her heart run a zip-line of crazy. Lust for the sexy SEAL swiftly turns to fear when he deploys to Syria for a mission. Mace returns home angry. Believing his injury destroys their future, unable to pleasure any woman, especially one like Nina, he tries to sever their relationship. She deflects every round Mace fires at her heart, determination controlling the helm. Just as the seas calm, fate advances. Another warrior sets his sights on her. Mace will wage war for her heart, but it's "Nina's Choice".
Previous Series Books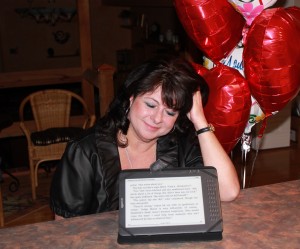 I grew up on the beautiful West Coast of British Columbia with the Pacific Ocean on my western doorstep, and thousands of acres of forest on the other. After finishing school, my life took a drastic twist, and a lifelong working relationship with the marine industry began.

After a twenty-year hiatus from my creative writing, the stories swirling in my mind began to swim hard to resurface, and I threw them a life ring. I juggle my creativity during my days off, and then get back down to business, working in Vancouver Harbour. My life is a mix of creativity vs. black and white procedures. With a lifetime of working in the marine community, there's plenty of stories to tell. It's a different world, different language, unsung heroes and heroines aplenty, heated moments, and blissful silence when all is well. Reading and writing is the way I turn down the loud hum that my work causes, and after thirty years of humming, it's time to vent.